What I'm passionate about is following a Jewish Rabbi who walked the earth 2,000 years ago. Through his example he offered the world a new paradigm to live by that included "love for enemies," "heartfelt compassion," and "sacrificial service." He modeled a "Gospel" lifestyle and inaugurated a new moment in history called God's "kingdom" or "reign." His reign puts relationships before programs, integrity before efficiency, and peace before prosperity. With all of my mind, heart, soul, and strength I want to follow my Rabbi's example learning to live in love, cultivate compassion, and care for the "poor, widow, and orphan."
My Calling
My calling is to use words in ways that invite people into the awe-inspiring adventure of discipleship. Words chosen carefully and delivered effectively, words painting pictures of hope and of the wonders of a world wowed with love—God's love. Words that encourage, edify, educate, and empower people to become all that God has created them to be.
More About Dale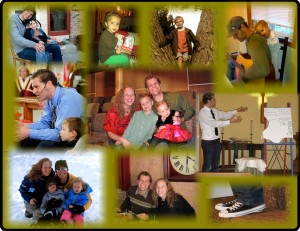 Here's a little more about me. My name is Dale Fredrickson and I was born and raised in Northglenn, Colorado. My first departure from the Denver Metro area was an extremely cold year in Chicago, although one of the highlights of my time in Chicago was being introduced to real pizza.  Besides food, I enjoy hiking, biking, camping, rafting, kayaking, reading, running, writing, and playing basketball. All of these activities are made meaningful by the presence of my friends and family.
My second departure from Denver came in the summer of 2006 as I entered the exciting world of Southern California where I began a Ph.D. in Religious Studies with a focus on the New Testament at Claremont Graduate University. My educational background includes a double major in Biblical Studies and Youth Ministries from Colorado Christian University and a Masters Degree in Biblical Studies from the Iliff School of Theology.
I'm passionate about the Bible.  I'm fascinated by the Bible's challenging stories.  To name just a few: Cain's murder of his brother Abel (Genesis 4:1-16), Abraham's near-sacrifice of Isaac (Genesis 22), Joseph's journey from the bottom to the top (Genesis 37-46), The miraculous escape of the Israelites from Egypt's oppression (Exodus 1-20), David's love for the crippled boy Mephibosheth (2 Samuel 9), and the courage of Shadrach, Meshach, and Abednego in the midst of imperial flames (Daniel 3:19-30).
I'm awed by the Bible's honesty in the face of life's difficulties.  Over and over, the Psalms express deep longing and yearning for God through prayers: these prayers that put words to the raw pain and extraordinary joy of human life.  In the midst of persecution, pain, and exile at the hands of the Babylonians, the Psalmist declares: "Happy shall they be who take your little ones and dash them against the rock!"  And, in a moment of exuberant delight, Psalm 103:11b-12 declares, "so great is his steadfast love toward those who fear him; as far as the east is from the west, so far he removes our transgressions from us." And then, there's the prophets who speak with conviction and who imagine new moral possibilities for God's people.  My personal favorite that was proclaimed at the height of the Civil-Rights movement by Martin Luther King Jr. is Amos 5:24.  "But let justice roll down like waters, and righteousness like an ever-flowing stream."
Compelled by Jesus
Lastly, I'm compelled by Jesus' vision and invitation to all recorded in the Gospels and echoed in the letters and Acts of the Apostles.  Jesus' call to discipleship is an invitation to experience "abundant life (John 10:10)."  It's an invitation to follow Jesus' example of love, compassion, and justice for all.  Jesus' call compels me to live in community, care for the poor and sick, and fight systems of social, economic, and political injustice.  In short, it's the adventure of a lifetime!
My passion for ministry arises from personal experience. Many thoughtful teachers, pastors, and friends nurtured, challenged, and informed my faith journey. I desire to be a pastor deeply committed to the world-transforming love of God.  I desire to listen, lead, and act with compassion and empathy to the pains and joys of the faith family at Lakewood United Methodist Church, the community-at-large, and our global world.
I am fortunate to be married to Stacy Marie who loves to play soccer and spend time with friends and family, and I am also the proud father of Trey Carl, known to me as T.C, as well as Irayna, known to us as "Iree."